Amazing Children's Day Quotes (With Picture Messages)
Children's day is an extraordinary day for all families. It is a day set aside to celebrate the beautiful gifts of God to homes – children.
Children are special gifts from God and should be celebrated and taken care of always. Having children equals having laughter and warmth in the home.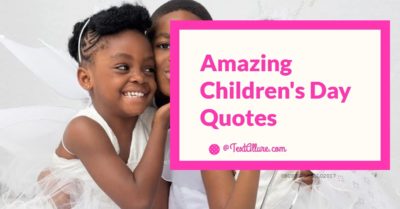 Almost all nations of the world set aside a day yearly to celebrate children. The United States – 12th June, United Kingdom and Ghana – 20th November, Nigeria and Brazil- 27th May, Portugal, Czech Republic and China – 1st June, Japan – 5th May, Turkey 23rd April, India – 14th November, South Africa – 6th November… The list is just endless.
Children's day celebration promotes the importance of protecting the rights of children. Any child, anywhere in the world, either your biological child or not, deserves to be respected, appreciated and cared for.
In this article, we share with you amazing children's day wishes, prayers and quote.
Looking for a reason to love a child? Read on. You surely will be challenged.
25 Beautiful Wishes for Children
We've compiled beautiful children day wishes here for your appreciation. Copy and send any to that beautiful child.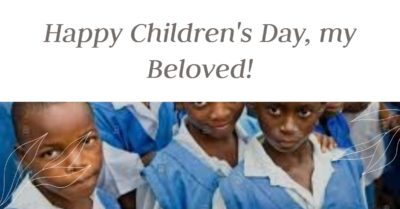 You are my treasure and my future. Here's wishing you a Happy Children's Day filled with love

You are the most precious of blessings to me And I treasure every moment I spend with you My dear child. have a wonderful Children's Day!

My Sweetheart, have a wonderful Children's Day! Believe in yourself and pursue your goals And never forget that you are loved today and always!

My munchkin, I wish you a wonderful Children's Day – You bring back memories of my childhood. And now that I'm your mother, I have a newfound admiration for my parents!

Childhood is a happy time in one's life, so savour it and make good memories! When you're older, you'll remember them fondly. Have a wonderful Children's Day!

Children's smile are so warm and innocent that whenever they smile, there is joy in the air and love between neighbours. What wonderful things your little smile can accomplish! My little one, have a fantastic Children's Day!

Childhood is a time of innocence and play. It's all about happiness and freedom. Happy National Children's Day!

Such a treasure you are to me, my precious child. Sending you hugs and kisses. Happy Children's Day…

You are the best creation of God, and you bring joy to my heart. Happy Children's Day, my love.

We feel blessed to have you in our lives. Your one smile is enough to make us forget all the unnecessary things we worry about. Thank you for bringing excitement into our lives. Have an amazing Children's Day.

My dear child, you bring fun (and stress too, at times!) into my life But trust me my life has never been this eventful, not even in my childhood. Yes, I have to clean up after you and be on guard, always, but I love it. Happy Children's Day, my baby!

My sweetie, I feel blessed to have you. You are cute, innocent, and thoughtful. I wonder who passed down these traits to you, but then I know it's me. Have a very Happy Children's Day!

I've baked cookies for you, so come out of your room! My child, have an amazing Children's Day!

Hello, my boy! You're loved today and always. Dad and Mum treasure you. Happy Children's day.

You've made us proud parents, the envy of everyone else. You are an exceptional child, one in a million, and we adore you. Happy National Children's Day.

Whatever happens, dear child, remember that you have everything it takes to reach the top. You were not born to be mediocre; you were born to be great. Happy National Children's Day!

You can always rely on the values we've instilled in you to help you make the right decisions in stressful situations. Happy National Children's Day!

You are a treasure, a priceless gift, dear child. May you thrive for the rest of your days. Happy National Children's Day!

My child, I will always love you unconditionally. You can rely on me at all times. Happy National Children's Day!

Do it for yourself all the time, proud child. Always strive for excellence. I'll be gone one day, leaving you to make your own decisions. As a result, it is critical to make informed decisions. I adore you to the moon and back. Happy National Children's Day!

May you always be able to hold your head high, my child. I hope you never bring shame to my name. May each new day be better than the one before it. Happy National Children's Day!

Enjoy the joys of childhood, the freedom, and the thrills. May laughter never leave your mouth. Happy National Children's Day!

We can't buy some things, our childhood is one of such. Enjoy the child's day spirit!

I'm sending you a bouquet of flowers to fill your life with love, happiness, and memorable moments! Have a beautiful children's day.

We may be your teachers, but we have a lot more to learn from you, especially how to laugh from the bottom of our hearts. Happy National Children's Day!

On this Children's Day and all year-round, I wish you great happiness. May your future be as bright as the light you illuminate this world with. Enjoy your special day!

Sending your way a bunch of flowers that blossom your life with love, happiness, and cherishable moments! Have a beautiful Children's Day!
Also Read: Best Messages for Lovers
Sweet Quotes and Thoughts on Children's Day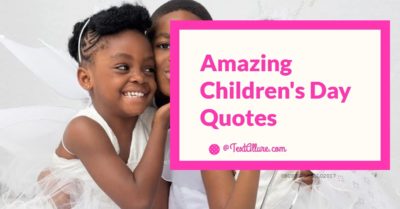 The following quotes about children will inspire you, challenge you and make you value the place of children more. Happy reading.
Children are a heritage from the Lord, offspring a reward from Him – The Holy Bible (Psalms 127:3)

Our children are our greatest treasure. They are our future. Those who abuse them tear at the fabric of our society and weaken our nation. – Nelson Mandela

Every time a child is saved from the dark side of life, every time one of us makes the effort to make a difference in a child's life, we add light and healing to our own lives. – Oprah Winfrey

While we try to teach our children all about life, our children teach us what life is all about. — Angela Schwindt

Every child is an artist, the problem is how to remain an artist once we grow up – Pablo Picasso

A child can always teach an adult three things: to be happy for no reason, to always be busy with something, and to know how to demand with all his might that which he desires. — Paulo Coelho


Never miss an opportunity to tell your child, "I love you". — Unknown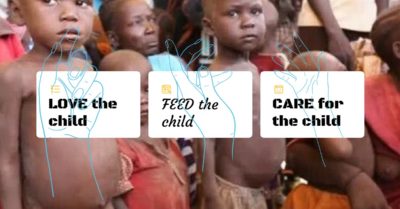 Treat your kids like a darling for the first five years. For the next five years, scold them. By the time they turn sixteen, treat them like a friend. Your grown-up children are your best friends. — Chanakya

The first happiness of a child is to know that he is loved. — Don Bosco

There are no seven wonders of the world in the eyes of a child. There are seven million. — Walt Streightiff

We cannot fashion our children after our desires, we must have them and love them as God has given them to us. — Johann Wolfgang von Goethe

Children must be taught how to think, not what to think. — Margaret Mead

Children have never been very good at listening to their elders, but they have never failed to imitate them. — James A. Baldwin

Children are like buds in a garden and should be carefully and lovingly nurtured, as they are the future of the nation and the citizens of tomorrow. Only through right education can a better order of society be built up. — Jawaharlal Nehru

Every child comes with the message that God is not yet discouraged of man. — Rabindranath Tagore

There are only two lasting bequests we can hope to give our children. One of these is roots; the other, wings. — Hodding Carter

You can learn many things from children. How much patience you have, for instance. — Franklin P. Jones


Until we're educating every kid in a fantastic way, until every inner city is cleaned up, there is no shortage of things to do. – Bill Gates

Children are great imitators. So give them something great to imitate. — Unknown


A child can ask questions that a wise man cannot answer. — Unknown

Children are the future. Nurture them right, so that they grow up to be able leaders and lead the world towards light. – Unknown

It's not our job to toughen our children up to face a cruel and heartless world. It's our job to raise children who will make the world a little less cruel and heartless. – L.R Knost

Children are great imitators. So give them something great to imitate. – Unknown

Do not educate children to be rich. Educate them to be happy so that when they grow up, the will know the value of things and not just the price. – Unknown

A person's a person no matter how small. – Dr. Seus

Also Read: Best Thursday Quotes and Images Here

The greatest gifts you can give your children are the roots of responsibility and the wings of independence. – Unknown

Children need models rather than critics. – Joseph Joubert

I have a dream that my four little children will one day live in a nation where they will not be judged by the colour of their skin, but by the content of their character. – Martin Luther King

Children are natural zen masters; their world is brand new in each and every moment. – John Bradshaw

Children learn to smile from their parents. – Shinichi Suzuki

Kids go where there is excitement. They stay where there is love. – Unknown

Let us sacrifice our today so that our children can have a better tomorrow. – A. P. J. Abdul Kalam

Every child is a different kind of flower, and all together, make this world a beautiful garden.- Unknown

The secret of genius is to preserve the spirit of the child into old age, which means never losing your enthusiasm. –  Aldous Huxley

Start children off on the way they should go, and even when they are old they will not turn from it – The Holy Bible (Proverbs 22:6)

Words of Admonition to care for children

They may not always smell pure and sweet,
A dirty diaper or a dampened sheet.
But with a loving cuddle and a beautiful smile,
The joys of parenthood are all worthwhile.
Happy Children's Day!

God loves every child so much that he creates each one of them with unimaginable perfection. Truly, children are blessings from heaven. Happy children's day!

On this very special day, let us all celebrate the innocence and purity of our kids. Let them feel precious in every way that we can because they are our future. Happy Children's Day!

Children carry the hopes for our brighter tomorrow and the dreams of our happy future. Wishing a very enjoyable day for children all over the world.

Children are the image of God. Let's celebrate the spirit of childhood on this International Children's Day!

The most precious thing in this world is a smile on the face of a child. Happy children's day to every kid in the world. You're so special to us!

Sweet children, on this day devoted entirely to you, I want you to know there are no words on earth that I can use in describing how special you are to me. May happiness and sunshine always fill your world. Happy Children's Day, my dears!

Children are the world's most valuable resources and its best hope for the future. Happy Children's Day!

Without children, the world would be devoid of sunshine, laughter, and love. That's why I believe children are the most precious creation in the world. We should protect, guide and love them with all our might, for they are our greatest treasures. Happy Children's Day!

If money could buy happiness, everyone would go back to their childhood with all the money they have. Childhood is awesome like every child is. Happy Children's Day!

Every child is a gift of nature. Give them their today, give them time to play, and make way for their future. Happy Children's Day!

Children should be taught how to be good human beings than how to be rich. A very warm wish for every kid on this very special day!

Make every child you know feel valued on their special day with these happy Children's Day quotes and messages.
Also Read: How to Rectify CAC Queried Registration Issue | Complete Guide

Amazing Slogans for Children's Day
Therefore, to help you encourage our children as leaders of tomorrow, read and meditate on the following slogans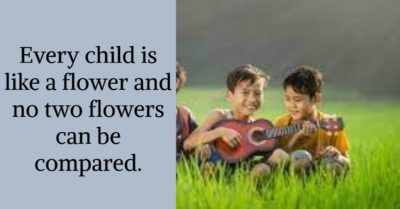 This Children's Day, take a pledge that you will not turn your back when you see a child in distress!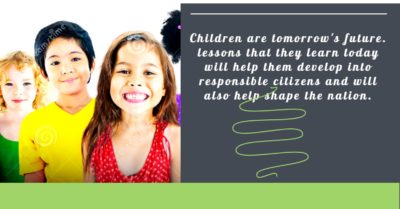 You care for and support a child today; he will grow up to care for and support the nation tomorrow.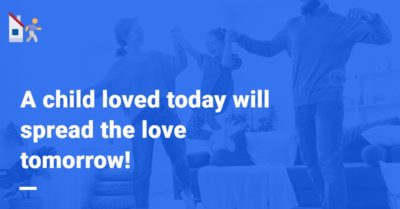 Pledge to be nice to every child you meet; one day, history will be made with this simple deed!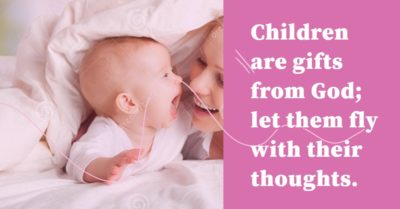 Can we ask you, dear, what will you do to help a child today? Or better still, what will you do to show a child love? Do it and make the world a better place.
Also Read:
Facebook Dating App – Facebook Online Hook up for Singles
Best Collection of Good Night Messages
Best Birthday Texts and Messages
Thank you!