51 Wedding Anniversary Wishes
51 Wedding Anniversary Wishes for Couples: A wedding anniversary symbolizes that a couple's relationship has gone through life's stormy waters.
The whole idea is to let the couple feel warm hues of a milestone celebration that becomes another cherished memory in the book of their lives.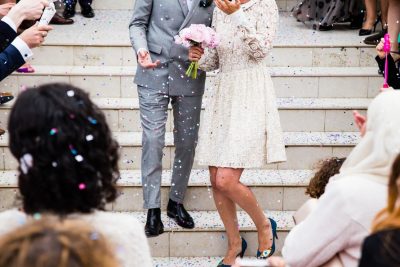 1. Wishing you a wonderful and long life together on your anniversary.

2. Wishing you many more years of happiness and unconditional love.

3. Even though the years continue to pass, may the love that you share only continue to grow stronger with time. Happy Anniversary!

4. Wishing you all the happiness and love in the world and congratulations on your anniversary.

5. Sending you loving wishes that you'll grow deeper and deeper in love with every passing anniversary.

6. Best wishes to you both on your anniversary.
You're my everything, today and always. Wishing you a very happy anniversary.

7. Wishing more laughter, more joy, more love for the both of you in the years to come.

8.Sending you warm wishes on your anniversary; may you continue to grow older and happier together.

9. Wishing you nothing but happiness on our anniversary.

10. May you continue to be a wonderful husband and wife to each other. Wishing you nothing but happiness, love, and joy in the years ahead.

11. Looking at divorced couples make me feel that marriages are ephemeral. But you both have proved that marriages are truly eternal. Happy anniversary.

12. More than the pop of balloons, flash of lights and shower of confetti – may the sounds of laughter, flashes of smiles and showers of happiness mark your anniversary.

13. Some of the best memories of a couple are not just the magic of their first few kisses but the magic they create every time they kiss for the rest of their lives. Happy anniversary.

14. The wrinkles on your faces are not signs of how much you have aged, but how beautifully your marriage has survived the test of time. Happy anniversary.

15. Not a long journey, your marriage is an adventure. Not a love story, your marriage is an epic tale of romance. Not a happy ending, your marriage is a blissful loop of sweet memories. Happy wedding anniversary.

16. No one and nothing in this world is perfect, but the two of you are as close as it gets. Happy anniversary.

17. Parties, dinners and get-togethers – we have many selfish reasons to gather and wish you both a great life ahead. Happy anniversary.

18. The bond of a marriage can take various forms, depending on whether life is imitating calm or storms. Sometimes in can be a beautiful knot, sometimes it can be a fragile cord. Regardless of what it is, I hope your lives overflow with bliss. Happy anniversary.

19. The echo of your love and the sound of the sea have a few things in common – they are both constant, soulful and eternal. Happy anniversary.

20. Real relationships are when you can fight like enemies, laugh like best friends and love like soul mates. Happy anniversary.

21. Whatever you do and wherever life takes you, never underestimate the power of honesty, love and friendship. Happy anniversary.

22. Relationships are not about give and take, they're about share and care. Happy anniversary.

23. To the beautiful couple in all the land,
May your anniversary be Happy and Grand.
Happy Anniversary
More Happy Anniversary Messages Wishes below….
24.Great wishes on your anniversary, My Friend, Hope you are happily married till the world ends!!! Happy wedding anniversary!!!

24. As pure as diamond may your relation be, Till the time on Earth lasts, the sea!!! Happy wedding anniversary!!!

25. May the love between you, bring lots of joy, And may that happiness no one can destroy!!! Happy wedding anniversary!!!

26. It looks like married life agrees with you, And I wish the best for both of you!!! Thanks for being my friends!! Happy wedding anniversary!!

27. No one in the world would understand you, In the best way you each other do!!!! Happy wedding anniversary!!!

28. You guys are the most beautiful couple I have known, Whose love is seen and need not be shown!!! Happy wedding anniversary!!

29.From best buddies you turned to spouse, And made a home out of a house!!! Happy wedding anniversary!!!

30.No words can describe my wishes for you two, Which comes from the heart that's true!!! Happy wedding anniversary!!

31. May your love story never have an ends, Wish you a happy anniversary my Friend!!!

33. You fall in love with each other, every time, May the milestones of your relation you climb!!! Happy wedding anniversary!!!

34. Happy Anniversary! It's truly amazing to see that you're still so deeply in love with one another after so many years. May you have many more happy anniversaries to come.

35. Aphrodite herself could never have formed such a great love as the bonds that you two share. May you always possess such astonishing love and care. Happy Anniversary!

36. Through the good times and the bad you two have withstood the true test of time, every year growing with each other and growing closer together. Happy Anniversary!

37. Anyone can fall in love, but not everyone can stay in love – Happy Anniversary! And here's to many more!

38. Sending you thoughts of love on your wedding anniversary. Enjoy many more years of happiness.

39. Sending heartfelt wishes your way and on such an important and lovely day. Happy wedding anniversary.

40 Congratulations on another year of love, laughter, and happiness. Here's to wishing you many more and a happy anniversary.

41.Sending thoughtful wishes your way on this very special day of yours. Happy anniversary.

42. Happy anniversary to the man who has blessed my life with laughter and joy.
Happy anniversary to a couple who deserves the best in love, life, and happiness.

43. WishespointBest Wishes For Birthday, Mothers Day Messages & Funny Cards

44. Anniversary is the most important and loving day for men and women. On this day they received anniversary wishes from others. It is always a special day for both men and women. If your any dear one anniversary is coming and you would send him/her anniversary wishes then your words should be inspiring and convincing. Now we have here huge collection of anniversary wishes which are very unique and wonderful.

45. Happy Anniversary and May your marriage be Blessed with love, joy And companionship For all the years of your lives!

46. Best wishes to you both on your anniversary, May the love that u share Last your lifetime through, As u make a wonderful pair. Happy Wedding Anniversary

47. Happy Anniversary to the couple whom I admire the most.

48. Now is the time to celebrate, The love in your hearts today, For another year so quickly passed, Since your last anniversary day, May you share your love together

49. For some people, a perfect marriage is a myth, fairytale, legend, fable or false hope. But for me, it is a real thing which exists between you both. Happy anniversary.

50. Very few people have the integrity and strength to stay together through thick and thin, you're a beacon of inspiration and hope to all those around you. Happy Anniversary!

51. Love is not only about candle light dinners and flowers. It is about compromises, accepting each others weaknesses, walking past hurdles together, standing by each others side for years and loving each other unconditionally. Love is the beautiful relationship the two of you share. Happy Anniversary.